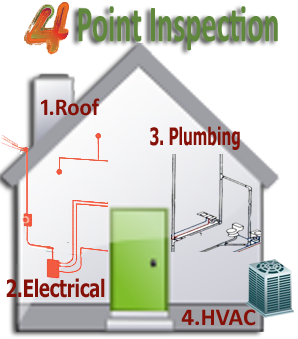 Insurance companies have become increasingly reluctant to issue Homeowners Insurance Policies on older homes (usually 30 years old or more). Whilst you may be able to have some luck speaking with the top Toronto insurance brokers and explaining your home condition in more detail, for others this may not be as simple a step to get your home the insurance it needs to be safe and you need for peace of mind. In fact, in order for most older homes to qualify, a 4-Point Home Inspection focusing on four main areas of interest as indicated below must be performed on these homes in order to get an insurance quote.
HVAC (Heating, Ventilation and Air Conditioning)
Electrical wiring and panels
Plumbing supplies and waste lines
Roof
You may find that after this inspection some areas may have failed, and so you may want to get a replacement for that component. For example, if the HVAC fails then installing a new unit (via https://bouldenbrothers.com/air-conditioning-replacement/ or a similar company) could become a priority. Additionally, the 4-Point inspection tells the insurance company what upgrades have been made to the 4 areas listed above. Getting your HVAC system working up to its optimum level is highly important, this is why it must be looked after by yourself and professionals. Utilizing the services of companies like CJS Heating and Air can help you keep on top of any work that needs to be done or any problems that have the potential to cause serious problems for your house.