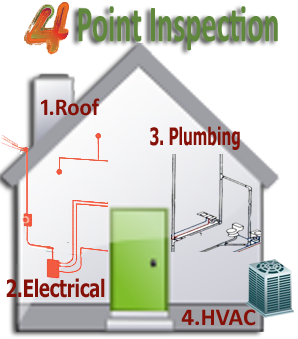 Insurance companies have become increasingly reluctant to issue Homeowners Insurance Policies on older homes (usually 30 years old or more). In order to qualify, a 4-Point Home Inspection focusing on four main areas of interest as indicated below must be performed on these homes.
HVAC (Heating, Ventilation and Air Conditioning)
Electrical wiring and panels
Plumbing supplies and waste lines
Roof
The 4-Point inspection tells the insurance company what upgrades have been made to the 4 areas listed above.
Image: www.waynecollierinspections.com