Do I Need A 4-Point Inspection When Buying A Home?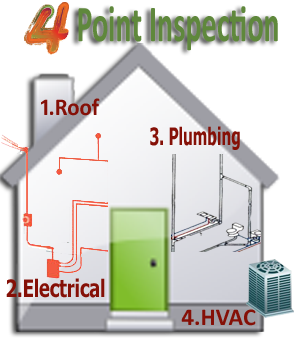 A 4-point inspection is not a comprehensive home inspection and does not necessarily include a deficiency list or a detailed analysis, which would be part of a comprehensive inspection.
When buying a home, a comprehensive home inspection is recommended. Buyers use results of this inspection to discover items that may not be working properly and need to be fixed or issues with the various systems that need to be taken care of.
On the other hand, and depending upon the age of the property, your insurance company may require a 4-point inspection, typically on homes 30 years old or older. The purpose of a 4-point inspection is to disclose to the insurance company any upgrades that were made and items that could become a liability to them, such as a roof that is at the end of its useful life. The 4-point inspection focuses on 4 specific areas:
HVAC (Heating, Ventilation and Air Conditioning)
Electrical wiring and panels
Plumbing connections and fixtures
Roof