Types of Roofing Materials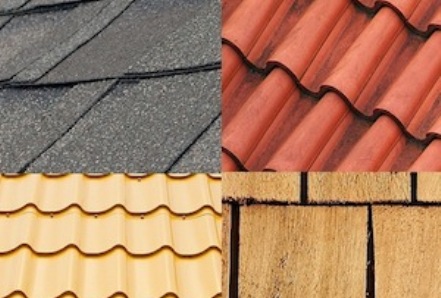 3-Tab Shingle
3-tab shingles have only one single tab size and shape. Cost efficiency (in terms of both material and installation) is one of the many benefits of having a 3-tab shingle roof. These roofs have a life expectancy of 15 – 18 years.
Dimensional Shingles
Dimensional shingles are an upgraded shingle when compared to traditional 3-tab shingles. They are thicker and have a longer life expectancy (18 to 20 years) than 3-tab shingles. Dimensional shingles differ from the traditional 3-tab shingle look because the actual shingle tabs have various sizes and shapes.
Metal
Metal roofs last 30+ years. Metal roofs can be found in shapes that look like other common roofs such as shingles and tiles.
Modified
Modified roofing is a type of roofing system which is used mainly on flat roofs to prevent leaks and move water off the roof. They are most commonly made from synthetic rubber, thermoplastic, or modified bitumen. This type of roofing has a life expectancy of 15 – 18 years.
Tile
Tile roofs are available in a wide variety of colors and shapes (roll tile, Spanish S, flat tile). Tiles roofs are the most cost-effective and energy-effective material choice, with better insulating properties than other material choices. Even though they provide you with these types of benefits, tile roofs can still be prone to needing repairs or replacements if they become damaged. It is important that you get your problem resolved as soon as possible and so that is why you should consider using Pantera Pavers, or a similar company in your area to help seal your roof so it can get back to its pristine condition. These types of roofs have a variety of different factors. Roof tiles can be nail down, mudded, or foamed. The nail down type of roof has a life expectancy of 20 years whereas the mudded or foamed has a life expectancy of 25 years. This roofing is normally installed using a qualified professional who has undergone various wh&s More Skills to ensure their safety at heights.
All of these roofing materials are available country-wide from many suppliers and can be fitted by a roofing specialist, if you want to be curious then you can always have a look online at some of the Prime Roofing in Neptune Beach to get some inspiration for a potential project you could be undertaking in later months.
Image: www.thatgoodolehandyman.com
Save